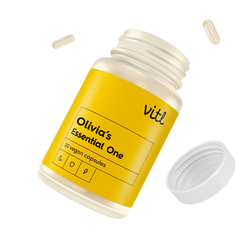 Free 30 Day Supply of Personalised Vitamins
Vitl are offering a 30 day FREE trial of their personalised daily multivitamins, worth £14.95.
Using their service you can get a tailor-made personalised daily multivitamin for 30 days.
Just click the claim offer button below and complete the short 2 minute registration form which will ask you some questions to create your personalised daily multivitamin. All you have to pay is the postage and packing of £3.95.
Note this is a subscription service, if you continue with the subscription the cost will be £14.95 per month (no extra for delivery). You can of course cancel if you do not wish to continue.
CLAIM OFFER