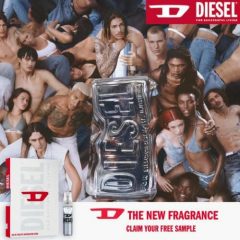 Free D by Diesel Fragrance Sample
D by Diesel is a unisex fragrance, and Diesel is giving away samples so you can try it for free! The scent has notes of vanilla, cotton, and more, so it is warm and fresh. Give the fragrance a try for free and see what you think.
Click the green button below to order your free sample of D by Diesel. The link will take you to their Facebook post, where you should click "GET OFFER", fill in your details, and your sample will be sent to you. Please note that you need to fill in the 2nd line of your address on the online form otherwise you won't be able to submit it. Get your free Diesel fragrance sample before they go!
CLAIM OFFER