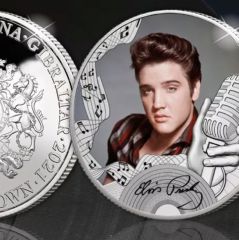 Free Elvis Presley Coin
The London Mint Office are giving away a free official "The King of Rock n Roll" coin today. All you need to do is pay the postage and packaging (£2.50).
There are only 500,000 Elvis Presley Coins from the London Mint Office struck worldwide. So add the Elvis Presley coin to your collection by requesting it today, best of all you only have to pay the P&P.
London Mint free coins are a regular feature on WOW Freebies with limited edition coins coming and going on the website frequently. Make sure to keep checking back to see which coins are available.
CLAIM OFFER