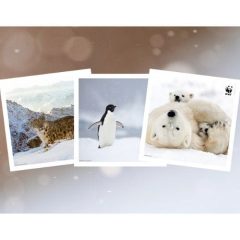 Free Festive Greetings Cards
WWF are feeling festive, and to celebrate the upcoming holiday season, they are giving away packs of cards. You will get three greetings cards, and each one features a beautiful image of a snow leopard, polar bears and a penguin. The cards will be blank, so you can write your own messages to whoever you want to send one to.
Your cards will arrive in mid-December if you order now, and you can do so by clicking the green button below. The link will take you to the WWF website, where you can fill in the form with your details, and they will send the free cards out. Plus, by getting the cards, you will get a discount code to use on their online shop too.
CLAIM OFFER