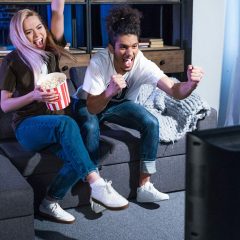 Free Gift Cards for Talking about TV Shows
Love watching TV? Who doesn't! If you spend time watching TV it is time you got rewarded for it. GFK is giving you the chance to voice your opinion on TV shows to help shape the future of TV. Pretty exciting!
You will get free gifts card which can be used at retailers like Amazon, Costa, Tesco and many more for giving your opinion and answering questions on TV shows. You can also enter prize draws to win some fantastic prizes.
Sign up with GFK for free today and start earning rewards for giving your opinions on TV shows.
CLAIM OFFER