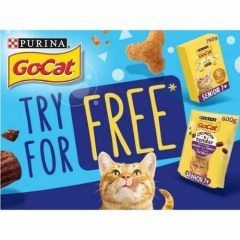 Free Go-Cat Senior Pet Food
Purina is giving you the chance to try Go-Cat Senior cat food for free! You can get either the Senior Chicken and Turkey Mix with vegetables 750g or Crunchy & Tender Senior Chicken Dry Cat Food 800g. It is a great offer for those who love the Go-Cat brand already or if you want your cat to try something new.
To get a free pack of Go-Cat food, you will need to purchase one of the two flavours above. Once you have, click the green button below and register your cat's details, and you will then receive a cashback form. You can then fill in the form and get up to £3.95 refunded to you for the food. Make sure you keep your receipt for the cat food safe as proof of purchase.
CLAIM OFFER