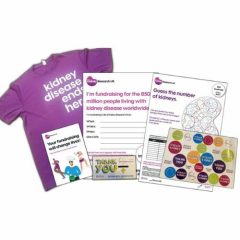 Free Kidney Research UK Fundraising Pack with T-Shirt
Kidney Research UK is giving away free fundraising packs! The packs include a t-shirt and activities that can help you raise funds for their charity. Any money you raise for Kidney Research UK will help to fund their research in ending kidney disease.
If you would like to do something amazing for charity and get a free pack which includes a t-shirt, click the green button below. The link will take you to the Kidney Research UK website, where you can tell them about your fundraising and claim the free pack. As this freebie is from a charity, please only order a free pack if you intend to raise funds. Good luck with your fundraising for an amazing charity!
CLAIM OFFER