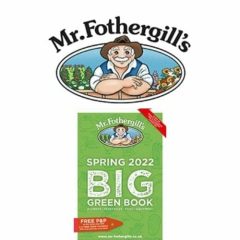 Free Seed and Plant Catalogue
You can now order a free copy of Mr. Fothergill's Spring 2022 Seed and Plant Catalogue. Mr. Fothergill's "The Big Spring Book 2022" will show you the plants and seeds available, and you can read it to get inspiration for your garden. You may find a plant that you didn't know about so you can learn something too!
To order your free catalogue, click the green button below to visit Mr. Fothergill's website. Once there, you should fill in the form, and a copy of the catalogue will be sent to your door by post. Order yours today and get inspired for a new season of gardening.
CLAIM OFFER