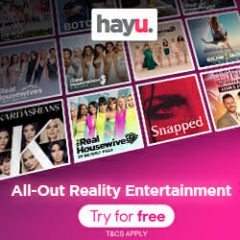 Watch True Crime Documentaries, Reality TV Shows with Free 7 Day Hayu Trial
Hayu is a streaming service that offers a TV show for everyone. Whether you want to get an insight into the lives of the Kardashians, want to see the glam lifestyles of The Real Housewives, or want to watch true crime documentaries such as Snapped. Whatever you are in the mood for, Hayu has something for you to watch.
Hayu has a selection of over 300 shows, and you will get access to episodes on the same day as the US. You can watch Hayu shows on any device, and you can download episodes of your favourite show so you can watch anywhere you want, whenever you want.
Sign up for Hayu today by clicking the green button below, this will take you to their website. Once, there you can get your free trial by filling in your details. When sign-up is complete, you can start watching straight away. Hayu can be cancelled at any time if you decide its not for you.
CLAIM OFFER