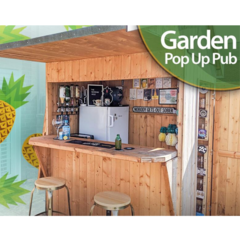 Test & Keep a Garden Pub Shed (Worth £530)
Now is a perfect time to register to be in with a chance of testing, reviewing and keeping a Pop Up Pub Shed. If you want to get your hands on one of the most in-demand products on WOW Freebies , for FREE then join Product Testing today!
Simply Register now and complete the offers based questionnaire. If successful they will send you your Pop Up Pub Shed. Then complete a thorough review of your new Pop Up Pub Shed. Be sure to send them your opinions to be displayed in their Review Room.
We hope you get chosen to review and keep this cool piece of kit. Good luck and thank you for registering!
CLAIM OFFER