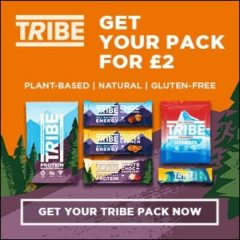 TRIBE Bars, Oats and Shakes – Only £2
TRIBE are giving you the chance to try their 100% plant-based products for only £2! The TRIBE Pack includes six bars, shakes or oats in many different flavours. Each product included in the pack will provide you with energy, are full of protein, and more. The best part? All of the TRIBE products included in the offer pack are vegan, so everyone can enjoy trying the snacks.
You can build your pack, so you can select which six products you would to try, and you can choose the quantity of each flavour. The 6 pack TRIBE box is usually £8.99 fortnightly, so it is a big saving. You don't have to do anything special to get the discount, you only have to click the green button below, and the discount will be automatically applied on their website.
This offer is only available for a limited time so give these protein-packed products a try while the deal is available! The TRIBE Pack is a subscription service, so you can pause, cancel or change your subscription anytime.
CLAIM OFFER