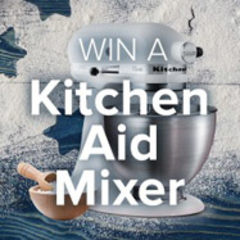 Win a Kitchen Aid Mixer
Do you enjoy baking, cooking and experimenting in the kitchen?
You'll know that lots of recipes and dishes involve stirring, whipping, beating or kneading. For 100 years, the KitchenAid stand mixer has made it easy as pie to mix ingredients, doing all the hard work so you can enjoy the fun.
Enter to Win yourself a FREE KitchenAid Mixer Today!
CLAIM OFFER