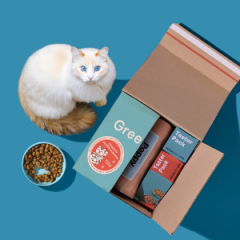 2 Weeks of Meals for Your Cat – Only £2.50
Republic of Cats are giving you the chance to try their tailored dry food and deliciously meaty wet food. The taster box includes enough food for 2 weeks of meals for only £2.50!
This would normally cost £15 so it's a huge discount on the regular price. The discount will be automatically applied when clicking through the green claim offer button below. If it doesn't automatically apply simply use code "WOW" to apply the discount.
This is a limited time offer, so get it whilst it's available!
Please note that this is part of a subscription, but that you can easily cancel any time and this offer is only available to new customers.
CLAIM OFFER