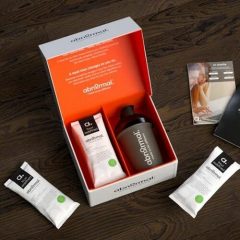 Free Meal Replacement Shakes and Shaker
abnormal. offer personalised meal replacement shakes, and now they are giving you the chance to try them with a free trial. The free trial includes 7 meal shakes, and you'll even get a free shaker too.
Each meal shake is personalised because they recoginise that everyone is different. An algorithm is used to create the perfect meal replacement shake for you. The best part? Each shake only takes 30 seconds to prepare, so they are great for busy people on the go. Each trial box also includes a personalised booklet that explains everything about your unique meal replacement.
To enjoy this free trial you need to sign up, and when you do you will have the choice of how many shakes you would like in each flavour. You can choose between vanilla cream, chocolate swirl, banana milkshake, or strawberry sundae.
Click the green button to visit abnormal. Once there follow the instructions for sign up which include answering some questions and you need to use code FREE at the checkout. It is important to note that there is a postage fee of £4.99. If you do not cancel the free trial after 7 days you will then be charged for the subscription.
CLAIM OFFER