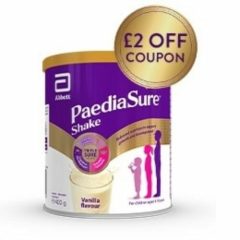 Free PaediaSure Shake Powder Sample
You can now try a free sample of the PaediaSure Shake powder. The powder can be used to make a nutritional shake for children aged 1-10 years. Each shake is full of vitamins and minerals, and it tastes great. You can order the chocolate version for the sample, and if that wasn't enough, they will also send you a £2 coupon. The coupon will arrive by email so you can get money off the PaediaSure Shake powder on the Boots website.
To claim your free sample and to get the coupon, click the green button below. Once on the PediaSure offer page, fill in the form to sign up with them. They will then send you an email, and you should click the link provided in the email to confirm your sample order. By joining their family, you will receive recipes, and more by email.
CLAIM OFFER