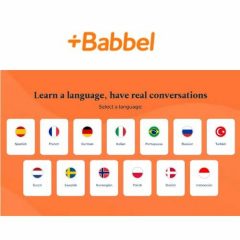 Free Babbel Language Lesson
If you sign up with Babbel, you can get one free language lesson! You should select which language course you would like to learn, and you will then get one free lesson so you can give it a try. Ten million subscriptions have been sold on Babbel, and 92% of their users improved their proficiency in a couple of months, so you know Babbel is trusted and can give you results.
Click the green "CLAIM OFFER" button below to visit the Babbel website. Once there, select the language you would like to learn and create an account with your details. It is free to sign up, and you will get one free lesson, so give it a try.
CLAIM OFFER