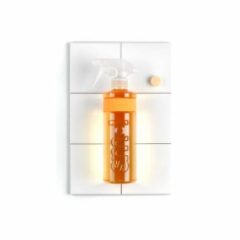 Free Multi Purpose Cleaning Spray
You can now get a free multi purpose cleaning spray from smol! If you claim this freebie, you will get a cleaning bottle with a band and trigger spray with one multi purpose refill tablet. All you need to do is fill your bottle with water and add the tablet, and you will have a cleaning spray that you can use in your bathroom, kitchen, on glass, mirrors and more.
The spray is better for your home and the planet because you will no longer need single-use plastic cleaning bottles, it is vegan and cruelty-free, and smol uses lower levels of added chemicals. So, click the green button below to read more and order your multi purpose cleaning spray. Once on the smol website, you can start your free trial to get your free bottle and refill tablet.
Please note that while the bottle and tablet are free, there is a small £2 postage fee, and you can pay that when you sign up with them. This is also a subscription service, so if you do not cancel, you will be sent a 6-pack of refill tablets. If you do not want to continue with smol, make sure you cancel.
CLAIM OFFER