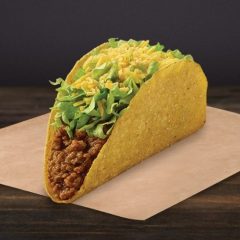 Free Crunchy Taco from Taco Bell
Download the Taco Bell app and sign up for a Taco Bell Supreme account, and you will receive a free Crunchy Taco! The app allows you to earn rewards whenever you order, and you will receive special rewards on your birthday and more.
To find out more information, and to get the download links for the Taco Bell app, click the green button below. Download the app on your device, and you will get a pop-up once you have signed up notifying you about the Crunchy Taco. If the notification does not appear, simply refresh the app or close the app and reopen it. The promotion for the taco will be under the heading "Offers". This Crunchy Taco offer is available for new users only.
CLAIM OFFER