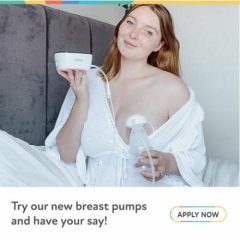 Free Nuby Breast Pump
Nuby is looking for breastfeeding mothers to test their new breast pump. If selected, you will be able to test the pump, give your feedback and keep it afterwards. It is a great way to try a new product, and you don't have to spend a penny.
Click the green button below to apply with Nuby. The link will take you to their Facebook post, where should click "Sign Up". A form will then appear, and you should fill that in. If you are successful in your application, they will contact you by email. Apply today, you may be one of the lucky testers.
CLAIM OFFER